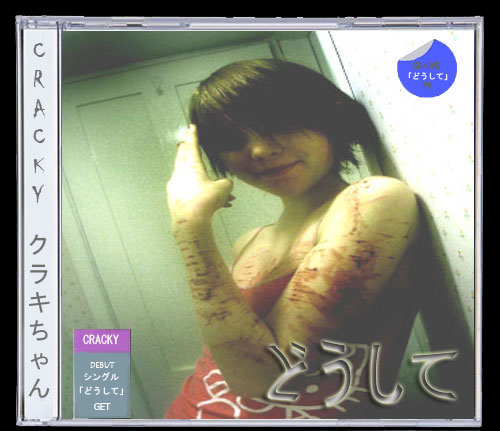 CRACKY IN JAPAN
Cracky, known affectionately in Japan as "Kuraki chan", is a popular idol in Japan.
QUICK JAMPU
Note : All new releases will be in the news section!
Cracky
Cracky, who's real name is Olivia, is originally from Oxford, England. She is of British, Spanish and Jewish descent. Cracky was originally an underground "net idol" mainly known in North America and Europe. However, an unexplained surge of interest suddenly brought Cracky fever to Japan. Out of nowhere, Cracky had attained a level of attention similar to Magibon or the Japanese version of the "Numa Numa" phenomenon.
Her popularity sparked her to begin an idol career. This includes singing, making appearances on television programs, and holding public events. Cracky speaks very little Japanese but has gotten better since her debut. Her songs are mostly Japanese with some English as is typical with the majority of Japanese music.
IDOL CAREER
Cracky has released 3 singles and all 3 have debuted in the top 10 on the Oricon Weekly Ranking. She has appeared and performed on popular uta bangumi programs such as Music Station, Hey Hey Hey, Music Japan, Melodix!, Domoto Kyoudai, Utaban and others. There has been a PV for each of the title tracks of her singles. These music videos often contain scenes that are very abstract and disturbing. Cracky is set to star in a new Iwai Shunji movie which has caused an absolute hype frenzy.
PERSONALITY
Cracky is a very unique idol. Most idols are cheery, happy, positive, cutesy personalities. Cracky is the polar opposite. Her interviews and performances are notorious and famous. She has screamed and cried during interviews and performances, and she has cut herself live on stage while performing. Cracky has been called "The Mad Leah Dizon" and "Insane Magibon" early in her career.
EXPLOITS
Hey Hey Hey
In one interview on Hey Hey Hey, Cracky stopped speaking and suddenly started going on a long rant about death and dead bodies in Japanese. The hosts just sat there dumbfounded. During this same show, Cracky encountered another foreign talent, Leah Dizon. Cracky told Leah that she would like Leah to kill her and explore and molest her dead body. This caused another moment of stunned silence.
Music Station
Cracky passed out backstage prior to the show starting. She can be seen acting jittery and strangely during the show. She told host, Tamori, that she would like his sunglasses. Tamori obliged with an extra pair he happened to have and Cracky wore them during her performance.
Utaban
Cracky's appearance on Utaban was infamous. At one point, she took the mug she was drinking from and tossed it across the set. She re-enacted Gackt's famous "pork belly block" portion of his interview on the same show. Her live performance part had her screaming, crying and cutting herself furiously. She was absolutely covered in cuts by the time she was done. There was blood everywhere. The crowd was in awe and very lively. This performance caused a large amount of traffic and discussion on the Japanese 2ch message board, so much so that the site was eventually crippled for about a day and a half.
Shibuya Live House Performance
Cracky's performance at a Shibuya live house had her writhing around on the floor in a pool of her own blood.
"Doushite" Video Shoot
During the filming of her "Doushite" debut PV, it is said she was seen drinking vodka. After the filming was over, Cracky put on cat ears, urinated and made feces in a nearby cat litterbox.
"Cracky Meiku Apu" Early Performances
Cracky's early performances involved her wearing lipstick on her nose and under her eyes. This created a huge craze in people imitating her. It seems like every subway has a handful of Cracky imitators.
FUTURE
Cracky's first full album is nearing release and she is set to star in a new Iwai Shunji movie. Her popularity shows no signs of slowing down.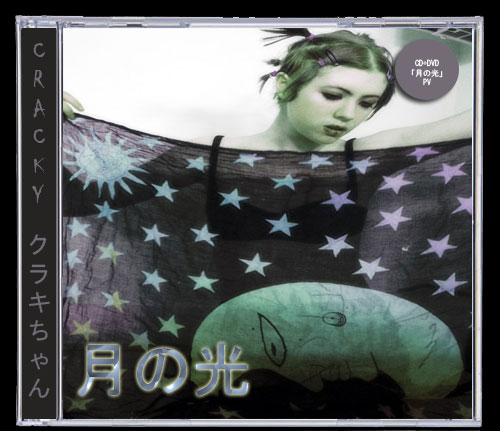 INFLUENCE ACROSS ASIA
Cracky's influence has also spread across Asia. Of particular note is Korean hip-hop group, Epik High. Epik High have a few songs that are widely believed to be about Cracky. The lyrics and imagery definitely paint the picture of the obsession and supernatural nature of Cracky.
Fan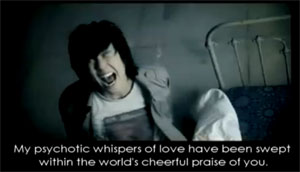 The first song we'll look at is "Fan". The video can be interpreted different ways, but anyone who has fallen under the spell of Cracky will understand. The lyrics are piercingly, beautifully tragic.
Youtube:
Paris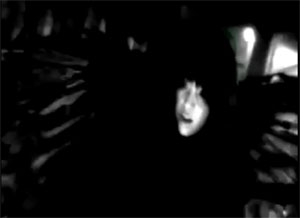 "Paris" is another AMAZING song and video. The lyrics speak of someone sacrificing everything for their forbidden love. The Cracky imagery is unmistakable in this one. It will leave you speechless. The reluctant dark angel aspect, the followers... the likeness of the 7 Days set. The aura. The owl imagery. A must-see for Cracky fans.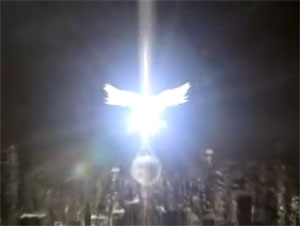 Youtube:
GOODIES
Cracky - Doushite This is the title track from her first single. It's a very emotional and powerful song that picks up amazing strength towards the middle.
Cracky - Me wo Tojite This is the title track from her second single, "Me wo Tojite". Again, a very powerful song but with more aggressive background music.
Cracky - STARS This is the B-Side of the "Doushite single". It's a very different song from the two above. It's more of rock song and features a lot more English than the previous songs. Her voice is also quite a contrast compared to the other songs. It's said she had to include more traditional "rock" or "rock pop" songs on her singles to give them a wider appeal. The fact that Cracky is so versatile and can change her voice and music style so much is a testament to her talent.
All three of those songs in a Rapidshare :
http://rapidshare.com/files/121567187/Cracky_Songs.rar
Seeing any of these songs performed live will change your life.
Unfortunately, Japanese media companies are extremely aggressive with clamping down on copyright infringement, making most Cracky media impossible to obtain online.
Her record label is also very protective and even issues stoppage orders on selling the CDs from time to time to preserve the mystique.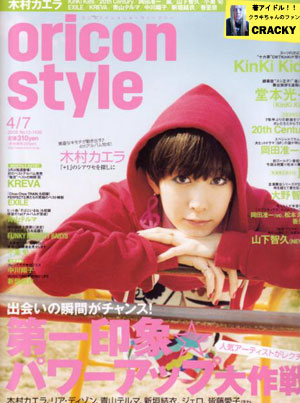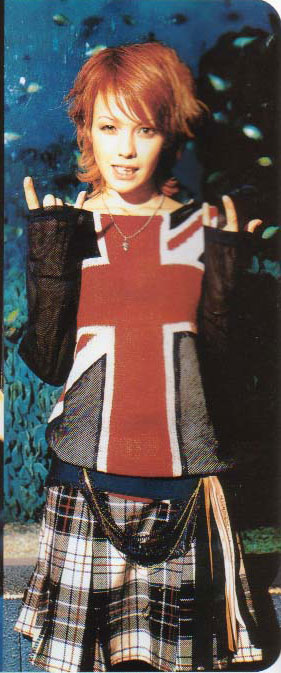 This image is from Oricon Style, a Japanese music magazine, talking about Cracky's popularity. They interviewed a bunch of Cracky fans and the girl you see there is one of the fans. You can see she dyed her hair red to look like Cracky and even has the UK flag shirt.
NEWS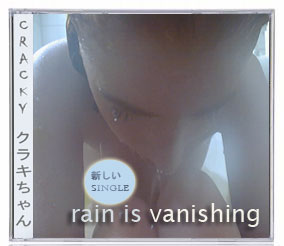 Cracky's first single since her debut full album's release. "rain is vanishing" features a mixture of English and Japanese and is comparable to the style of "STARS".
This is the more casual rock pop Cracky. Very light, catchy song.
It's said that Cracky went into seclusion after promoting her album. It's interesting to see her emerge to push this new single.
------Download "rain is vanishing" here.------
---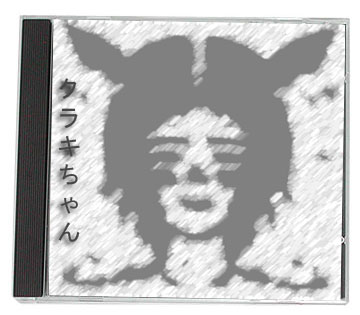 It's finally here. Cracky's long-awaited full-length debut album. After a string of insanely popular single releases, creating "Cracky Mania", the next level has arrived. This album was released in Japan September 23, 2008. The defining singles appear, we well as plenty of new songs.
This CD is selling out everywhere in Japan, with fanatics waiting all night outside of stores. Isolated conflicts and fights have been taking place all day. The police now have a presence at all of the larger retailers in Shibuya and other cities.
Track 1 : Doushite
This is the single that started it all. A powerful, painful ballad full of intrinsic, intangible emotion. There's not much to say about this song that hasn't already been said. Utterly bittersweet and superb.
Track 2 : Tsuki no Hikari
Cracky's voice is crystal clear in this song. You can feel her voice pierce through the hardest of physical and mental shells.
Track 3 : Kotoba
Cracky's music seems to have this very unique quality of being beautiful, depressing and bursting with genuinely real emotion. Kotoba continues this trend.
Track 4 : Shinjiru
Cracky's genre and style in full effect. This song switches from high to low often, leading the listener on a journey into themselves.
Track 5 : CRACKIES
This song is very different from Cracky's others. "CRACKIES" is more in the style of the earlier "Stars". The different, alternative Cracky sound. Fans of this sound will find a real treat in this song.
In a rare collaboration, Cracky collaborates with two other singers, Keiko and Misaki. The story of this collaboration is unique in and of itself. Cracky was walking around the country-side in Japan one day and met the two struggling girls. Keiko and Misaki were on the side of the road singing to try to earn some money. Cracky liked their sound, thought they were a good match and decided to record a song with them.
All three girls wore the trademark Cracky make-up while recording the song. The group says that "Crackies" are people that are lost in the world.
Cracky sings very differently, an interesting contrast to her other songs. As stated before, this is similar to her "Stars" style. The reason for this, according to Cracky, is partly to match the other girls; emulating the Japanese sound. It is also to fit the "Cracky" image, another personality.
Track 6 : Kokoro
An outpouring of apparently limitless power. Cracky gives a lot to this song. The deep bass of the background beat, contrasting with her crystalline voice forms an amazing sensation.
Track 7 : Stars
The original song of Cracky's lighter, more Japanese sounding style. This rock-ish track compliments the others nicely, and is a great fit to "CRACKIES".
Track 8 : Tsubasa
Wonderful. Pounding bass, childish bells, synths, a playful beat, Cracky's voice soaring above it all. A diverse melodic experience.
Track 9 : Me wo Tojite
The intense track you've likely heard before. An assault on your subsconious.
Track 10 : I
A more gentle, delicate song with a poignant pace.
Track 11 : Tsuki no Hikari ~REMIKUSU~ (Hidden Track)
AN ENORMOUS SURPRISE IN THIS HIDDEN TRACK. A hip-hop remix of Tsuki no Hikari! Everyone is talking about it! This song is pure, fitting and wonderful. The introduction of a thumping, seemingly breathing drum, changes the dynamic completely. The rhymes are tasteful, restrained and well-done. Tsuki no Hikari ~REMIKUSU~ is reminiscent of the Dido and Eminem joint-track from some years back.
All in all, a CD that more than lives up to the hype given to it. All hell is breaking loose in Japan right now because of it. One of the biggest CDs ever. The chaos surrounding this CD makes the buzz started by Utada Hikaru's "First Love" look small by comparison. Hikki never had tearful brawls by obsessed fans desperate to obtain her CDs to heal their souls, now did she?
------DOWNLOAD THE ALBUM HERE------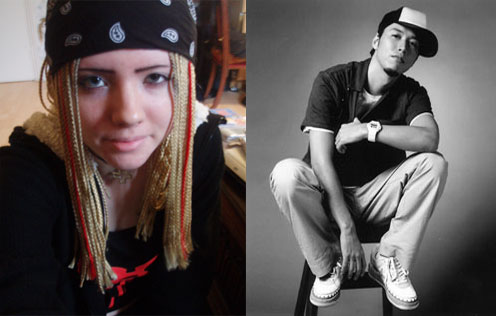 ---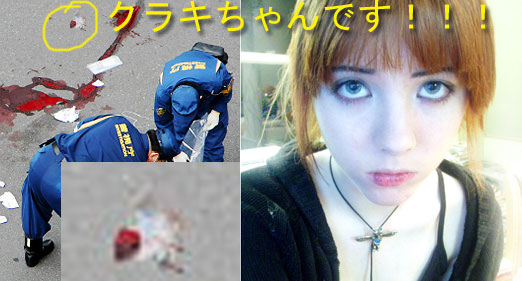 Here's an image from the Kato Tomohiro stabbings that's been circulating on some Japanese Cracky fan-site communities and that's being discussed heavily on 2ch.
The image supposedly is from a 2ch member that works for "a Japanese newspaper", obviously he won't say which one. He claims this is the original image they were going to work with for an article. However, right before finalizing the article, his managing editor was given a different image to use instead. The difference? THE CRACKY PICTURE LAYING ON THE GROUND. Any other instance you find of this image has the Cracky picture removed from it. It'd be easy enough to remove afterall, it's kind of by itself up there.
The Cracky version of the image has also been spotted in scattered, random small local newspapers.
The debate is, was it Tomohiro's, a victim's, or was it just a stray image flying around the streets?
---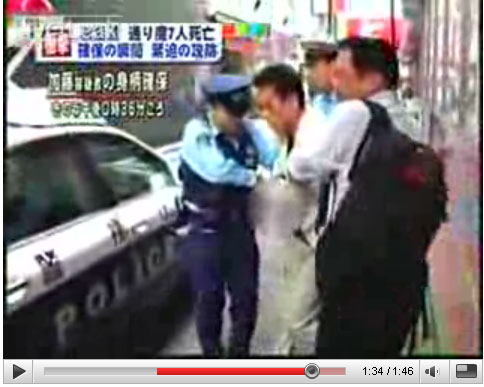 There's rumors that the guy who did the stabbing in Akiba was fueled by Cracky obsession. There's nothing specific about Cracky in the articles but the rumors are going around 2ch.
His hands are blurred so you can't really see but a few posters who claimed to be there said Tomohiro was clutching an image of Cracky.
http://www.youtube.com/watch?v=bleHZff1BTM
---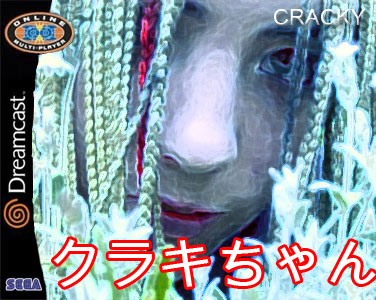 (NOTE : THIS WAS TRANSLATED FROM A JAPANESE SOURCE)
Cracky by Sega for Dreamcast with online play via modem.
Press release :
Capitalizing on Cracky's insane popularity in Japan, Sega Of Japan announced an all-new game for its Dreamcast system. Sega's communications manager had this to say "We are very excited to bring Cracky to gamers. Cracky is a unique idol. There has never been an idol like Cracky, and there never will be. Gamers will see that the game takes from her dark persona and explains some mysteries of her life. Kind of a biographical story at times with lots of secrets."
Sega also confirmed there would be a limited edition Dreamcast + Cracky game bundle.
Cracky's singles have all debuted in the Top 10 on the Oricon Weekly charts. She makes appearances on popular shows such as Music Station and Hey x3. Cracky is the real deal.
Following the interview where Cracky started screaming, she performed on stage and began cutting herself live.
---